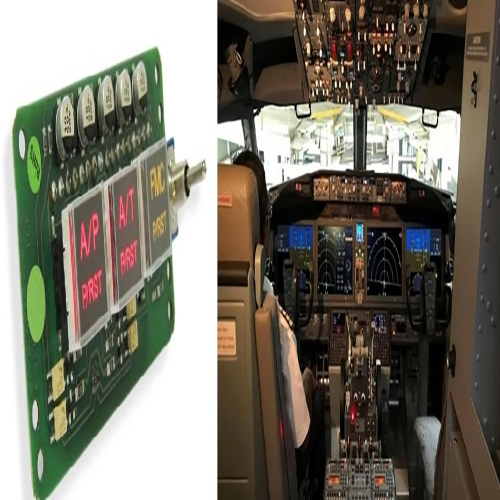 Aerospace Pcb Price And Quantity
50000.00 - 100000.00 INR/Unit

1 Unit
Aerospace Pcb Trade Information
10000 Unit Per Month

15 Days
Product Description
In order to obtain highly advanced electronics or gadgets for use in any aerospace product, rapid steering prototypes with effective engineers play a vital role in making the device a success. There are many types of PCBs used to manufacture heavy aerospace equipment.
Etrotrust can provide customized products and services to aerospace industry, such as:
Radio communication systems
Radar Installations
Power converters
Power supplies
LED lighting systems
Instrumentation
Temperature sensors
Audio interface applications

APPLICATION OF AEROSPACE PCB

Radio communication systems

Radio communications are essential in the aerospace industry. They aid in communication between the crew and the control tower.

Aerospace PCBs have to be used to ensure that the communication is seamless and efficient at all times.

Reliability is essential for the aerospace industry. Radar installations help transmit radio waves. These are very important in communication.

Aerospace PCBs are used in the installation of radar. These PCBs are resistant to the hazardous and extreme environmental conditions that these installations are made in.

Sensors in the aerospace sector are a necessity. They are important in detecting signals, pressure, and heat among others.

Due to the sensitive role they play, sensors have to be stable and reliable. They must also be cost effective. Aerospace PCBs are therefore designed to possess these qualities.

These are designed to convert electrical energy from one form to another. This is very sensitive in the aerospace industry.

Space shuttles, for example, rely on power converters to enable them to fly to space. Failure of these converters is catastrophic.

Aerospace PCBs for converters are fabricated such that they are able to withstand radiation in space. This helps in ensuring efficiency.

These are devices that supply electric power to electric boards. Failure is not an option in the aerospace industry.

Aerospace PCBs are designed and fabricated in such a way that they are able to withstand fluctuations in power supplies. In most instances, aluminum is used as it has the ability to dissipate electrical power currents.

Light emitting diodes are largely used in the aviation industry for lighting. Aerospace PCBs have to be used in the manufacture of these LEDs. This is because the aviation industry is delicate.

A small fault in the design of the PCBs for LEDs can potentially translate into catastrophes. It is imperative that the aerospace standards are met when making the LEDs.

Electronic flight instrumentation

This is found in the flight deck. It displays flight data electronically. It is a multifunctional display for the plane.

Also, this is one of the most sensitive components of a plane. Aerospace PCBs used in its manufacture must be designed to ensure durability and resistance to most of the extremities faced by the airplane.

These are devices which detect and measure hotness or coolness within a system and subsequently convert them into electrical signals. Airplanes are subjected to fluctuating temperatures.

There is need for PCBs that can handle this kind of fluctuations. This can only be found in aerospace PCBs. They are manufactured bearing this factor in mind.

This is charged with the duty of controlling and coordinating different components of the engine for optimal performance.

It is imperative that aerospace PCBs are used in the manufacture of these systems. This will help ensure that efficiency is realized.

Audio interface applications

A good example, in this case, is a flight data recorder. These are supposed to record all the information spoken over radio in the airplane.

They help in storing data. The data stored can be retrieved after aviation accidents and be used to ascertain the cause of the crash. This helps in the prevention of similar accidents.
Other Products in 'Custom Pcb Solutions' category
Get in touch with us